(c) SynCraft Engineering GmbH
With the help of the new technology, electricity and heat from wood or solid biomass are produced sustainably, economically and decentrally.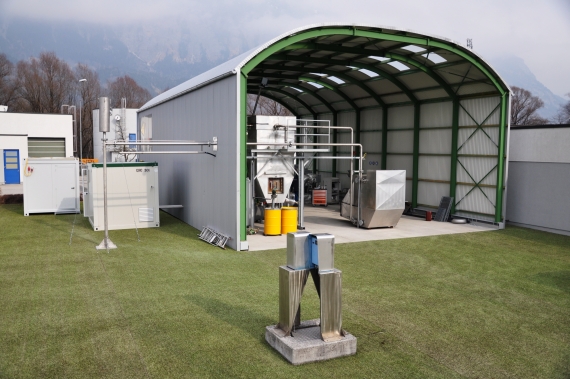 This innovative plant technology provides a number of possibilities for the efficient use of biofuels.
The special efficiency ensures a very long operating time of the system and a high purity of the gases used for the operation of the gas engines and the generators. Thanks to the unique floating-bed technology, previous limitations and weaknesses of conventional gasification processes are eliminated in a process-integrated manner, opening up new possibilities for more efficient use:
much more efficient and high quality conversion of wood into combustible gas
no basic size limitation as opposed to conventional fixed bed carburetors
greatly reduced expenditure in gas purification by a virtually tar-free product gas
reduced requirements on the quality of the raw material

This innovative plant technology provides a number of possibilities for the efficient use of biofuels. Furthermore, in contrast to conventional methods, elaborate and expensive end-of-pipe gas purification technologies can be dispensed with completely.
The CraftWerk Alpha was erected on the site of Stadtwerke Schwaz in 2009 and has since served as a development platform for floating bed gasification technology. Together with project partners and the MCI – Internationale Hochschule GmbH, the continuous further development of the technology takes place, as well as the use of alternative, biogenic raw materials such as bark, straw and old wood is thoroughly researched and researched. The plant has a heat output of 250kW and allows operation without supervision.
The CraftWerk Beta was built in 2011/12 in addition to an existing biomass heating plant in Vierschach / Innichen. This demonstration system has a heat output of 990 kW and an output of around 250 kW. Traditional wood chips (G30 / G50) including bark and fine portion are processed. The product gas is converted by a gas engine of 2G energy technology (Agenitor 312), which has been specially developed for the efficient processing of wood gases and promises maximum efficiency.
The aim of the "CraftWerk Beta" project is to build a demonstration plant with a capacity of 1,000 kW. This is intended to provide all the necessary insights for market launch. The aim is to find knowledge in the following areas:
Information on long-term efficiency and availability
Information on the expected operating and maintenance costs
Identification of optimization potentials

Following the successful completion of the 2-year project, an extension of the plant is planned for an energy-producing power plant operation. Each year, around 1 million kWh of green electricity and 1.5 million kWh of useful heat can be generated and used locally. At the same time, CraftWerk Beta will continue to serve as a research and development platform.
Syncraft Engineering is a spin-off company of the Environmental and Process Engineering course at the MCI Innsbruck, the CraftWerk Beta project is funded by the Austrian Research Promotion Agency (FFG).